At Lykens Chiropractic, we take great pride in providing the finest chiropractic wellness care to our patients. Below is a sampling of the different services we offer in our office.

Chiropractic Care
Dr. Nicki and Dr. Leslie are specifically trained to examine you for the presence of spinal misalignments, called "vertebral subluxations". If detected, the Doctors will use safe and effective chiropractic adjustments to restore proper spinal movement, correct your subluxations and remove nervous system interference.
What is a subluxation? A vertebral subluxation is a dysfunction of one of the vertebrae, the bones, in your spine. This dysfunction compromises the normal functioning of your nerves and can diminish your overall health and well-being.
What is a chiropractic adjustment? A chiropractic adjustment involves a specific force applied to a vertebra, aimed at correcting spinal subluxations. The goal of adjusting the spine is to restore proper motion, improve spinal function and remove interference from the nervous system, thus improving your overall health. There are many different adjustment techniques, and Dr. Nicki and Dr. Leslie will determine what techniques are appropriate for you.
---

Massage Therapy
Massage therapy offers a natural conservative treatment approach that relieves musculoskeletal pain for many patients. Our office provides specific massage and muscular therapy that is tailored to meet the patient's condition and injury. The benefits of massage therapy may include increasing blood circulation, reducing swelling, relaxing muscles, relieving muscle pain and spasms, and aid in recovery and range of motion. The following therapeutic massage modalities are available:
Swedish
Deep Tissue
Myofascial Release
Trigger Point Therapy
Reflexology

Pre-natal
Aromatherapy
Craniosacral Treatment
Sports Massage
Bowen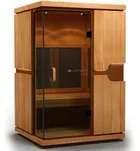 Infrared Sauna: with Acoustic Therapy and Chromotherapy
Our Infrared Sauna is the perfect way to deliver wellness to the mind and body. The three infrared wavelengths penetrate deep into tissue as an effective tool for natural healing and prevention – there is no steam. While the sauna and its acoustic resonance therapy are relaxing, it is also a great alternative for pain relief, allergy relief, detoxification, muscle recovery, cellular health boosting the immune system, skin purification and rejuvenation, and to lower blood pressure. Schedule your FREE 15 minute prep session today!

Sauna Rates:
Everyone is eligible for a complimentary 15 minute PREP session
~the purpose of the 15 minute session is to have you introduce the infrared to your system, the most benefits are received during the 40 minute sessions~
Practice members: 40 mins for $30
Non-practice members: 40 mins for $40
Pre-paid Sauna Series:
[8] 40 min sessions for $200

Add a friend to your 40 min session: $20
---
Thermography Scans
Digital Infrared Thermography Imaging is a noninvasive, no contact, no radiation, clinical imaging procedure that shows thermal abnormalities throughout the body. DITI can help determine the cause of certain pains, aid in the early detection of disease or pathology, and help discover nerve irritation or injured soft tissue. Appointments for an informational session or scans can be made by calling the office at 540-667-7388.
---
Studio Rental
The studio space is also available for event rentals. The space seats up to 20 for a presentation style, and up to 14 for a conference setting. There is the option of Chromecasting directly to the T.V. as well as surround sound. This space is perfect for any team trainings or small group meetings. Call the office at (540) 667-7388 or email us at [email protected] for more information and rates.